Internet Explorer Toolbar Maker 3
Bilden Sie Internet Exploer Bar von HTML PAGE
[Bilden Sie Internet Exploer Bar von HTML] You don't have to be a programmer to create your own Explorer bar. Explorer Bar (Band) Maker is a Windows tool (one-step wizard) that lets you create your own Explorer bar from any HTML page, picture or Macromedia Flash file. Usually, making Explorer bars includes COM programming, that can be complex and confusing. This work has done for you. Now, making a new bar is so easy as selecting a file.
Tags

activex javascript function html download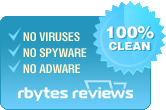 Latest User Reviews
Write a Internet Explorer Toolbar Maker Review
Internet Explorer Toolbar Maker related software
Internet Explorer 5.2.3
Microsofts Art, mit dem Mac durchs Internet zu surfenDer Internet Explorer für Mac bringt den am weitesten verbreiteten PC-Browser auf den Apple.
Earth Explorer 2018
Die Welt auch vom Mac aus in 3D betrachtenDer Earth Explorer bringt die Erde auf den Mac.
xaqua explorer 2.0
Der xaqua explorer ist ein Programm für den Schwimmtrainer, Aktive und Vereine